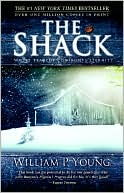 A few weeks ago, my wife picked up William P. Young's novel The Shack at the Christian bookstore. She read it over a long stay in Canyon and raved about it. So, I read it. I sense some real hope in this book. I'm not sure what reaches people who have stepped away from religion but it seems like this book might. I don't know. Here's my question: How do I affirm what I perceive to be good about this book and still critique what I view as problematic?
The difficulty that I have seen in the local church is that people don't catch the nuance of saying–here are the things I like and here are the things I'd disagree with. They either want a clear "amen" or an unequivocal "no way." "Yes, but" doesn't do it for most people.
Here's my attempt to say, "Here are some of the things I really liked and here are some things I have a problem with. " I'll start with a concern:
This is really more of a caveat than a critique. In the book, the members of the Trinity are characters–Creator, Redeemer, Sustainer are characters. These characters talk. Hence the author has written a book in which God speaks. I have a certain resistance to works of art in which God speaks. We have a couple of hymns like that. In "Here I am Lord," the verses are ostensibly "God's" call–I the Lord of sea and sky, I have heard my people cry . . . . Depending on how you read, "I was there to hear your borning cry" the voice could be that of God. I've always taken it to be the church rather than God but that's just how I sing th song. The problem here is that of how close it comes to idolatry. Crafting a voice and words for God is very similar to crafting an image and the problems are the same in either situation–we form an image of God that we control. Clearly, that's not Young's purpose in this book. Indeed, he unsettles some metaphoric images for God that we have turned into idols. But still, my knee-jerk suspicions are raised anytime any book but the Bible portends to give voice to the words of God.